Jurassic World: Dominion Dominates Fandom Wikis - The Loop
Play Sound
As your resources and services expand, so does your relationship with your neighbors. Some of these services, like fire and health, automatically reach out to your neighbors. When a neighbor's resources or services cross through the region's borders, an alert appears just below the SimCity Wire.
The players who are also in your region are displayed on the left side of your screen. Click any of the player avatars to enter a regional view of their city.
Region View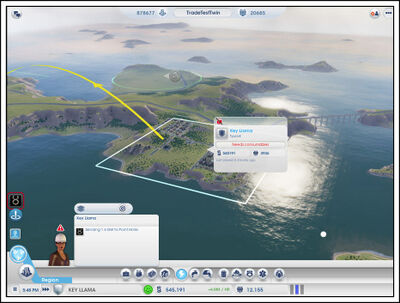 When you are ready to collaborate with your neighbors directly, select the region view icon on the left side of the screen to see an overhead view of the entire region. Click your neighbor's city icon to enter a region view over their city. Once over a neighboring city while in region view, a window appears showing details about that metropolis. If the city is unclaimed, select claim to take on another city in the region.
City Information Window
In region view, you can view information on another player's city.
Simoleons: View how many Simoleons the other player has. If you'd like, you can choose to send them a gift from your own funds. Click the present icon in the Region View menu at the bottom of the screen, and then determine an amount to give.
Population: The player's city population.
Wants: The services this city needs.
Visit: Enter a neighboring city in Spectator Mode.
Region View Menu
While viewing a neighboring city in region view, a menu appears on the bottom of the screen. Click on the resources icons on the menu to gather more information about each city's relationship with one another. You can also gain details on assistance incoming from other cities or outgoing to other cities. When you click on any of these icons, a data map representing that resource appears over each region, with graphs and stats that compare that resource/service between each city. If any city's general resources (like power, sewage, or water) are being supplied to a neighboring area, a colored arrow appears between each city to indicate whom it is sent from, and where it is going.
Other services, like police, fire, or transportation, can be volunteered to another city. To send help to your neighbor, you must first have enough resources to supply your own city. Once the needs of your people have been met, you can choose to assist others. If you have surplus, select the icon of the resource, and then select the number of vehicles to volunteer to that city. Your services are then on the move, and help will arrive in your neighbor's city shortly. Note that vehicles you volunteer do not subtract from the number of vehicles available to your city.
You can choose to gift as many resources as you want to any city. To gift, select the share icon, and send any available alloy, coal, electronics, computers, fuel, metal, oil, ore, and plastic.